CHALLENGE
Globally, banks rely heavily on the traditional ways of verifying the farmer's ability to repay through only credit history, land records, and bank statements. This is a document-heavy approach and needs manual intervention at various touchpoints, limiting the risk assessment capability of banks.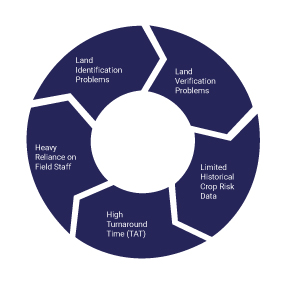 For farmers, the high turnaround time (TAT) for onboarding which can be an average of 28 to 45 days, is a big concern, with no assurance of funds being sanctioned at the end of the process. Thus, to enable financial inclusion for farmers, a transparent and digital process is needed to solve the problems of both banks and farmers.
WHY SATSURE?
SatSure has a unique team composition with experience in agriculture, satellite remote sensing, data science and finance.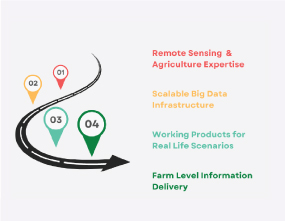 SatSure Sage is a loan lifecycle management product suite which helps banks make decisions related to sourcing, loan portfolio monitoring and loan recovery.
Being an organisation on a mission to enable financial inclusion, we work closely with banks through our products to enable credit access to farmers in developing countries.
HOW DO CUSTOMERS USE SATSOURCE REPORT
The modularised SatSource report helps banks make informed decisions for loan underwriting and farmer onboarding. It helps credit managers access required information on the land location (if the respective Government Departments have digitised them), cropping histories like sowing and harvesting, crop performance & yield, weather insights, irrigation conditions and market data (obtained through Government and public sources).
These data sets and their insights are used for risk assessment for small and large holdings, creating pre-approved loan products, and reducing turnaround time for new loans and renewals. Banks can also use the SatSource report for mortgage loan cases to test the repayment capabilities. Accessing the cropping history and evaluating the crops grown vs crops reported by farmers remotely helps identify fraud instances to understand the loan requirement.
RESULTS
Today SatSure is helping banks do land digitisation and verification with Government land records through SatSource Report.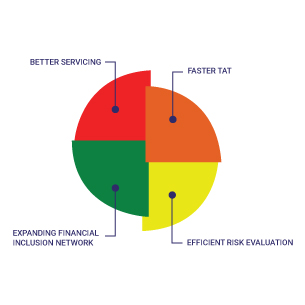 The reduced turnaround time of farmer assessment through cropping history gives the banks and their credit managers an edge, enabling better underwriting through transparency on the underlying risk of the asset and improving financial inclusion for farmers who were neglected earlier due to lack of land ownership documentation and digital cropping history.
DO YOU FACE THESE PROBLEMS?
Having high customer sourcing and servicing costs
High turnaround time for customer onboarding
Looking for alternate data to validate land information and assess crop performance
Want to increase the portfolio size while controlling the risk
The SatSource Report can help you, and your team evaluate risk better and make informed lending decisions.
Reach out to us at info@satsure.co for more information.