The uses of satellite imagery are probably never-ending as technology advances, and new use cases for the same are discovered on a daily basis. Most recently, the potential of high-resolution optical imagery was realised during the Ukraine crisis and also when multiple satellite operators imaged the "Evergreen" ship that blocked the Suez Canal for six days, which served as a marketing campaign for hi-res optical data.
Optical satellite EO data forms a primary input to all the products of SatSure. Through our products, SatSure Sage, SatSure Skies and SatSure Sparta, we are today solving problems at the nexus of agriculture, infrastructure and climate action. Our products are built to generate location-specific insights, allowing our customers to make critical decisions to improve the efficiency of their processes and operations. At SatSure, while medium-resolution satellite EO data has served as an input for most of the use cases, high-resolution EO data became a necessity to cater to increasing demand and newer problems faced by our customers. Almost all EO application companies to date have faced challenges to scale commercial use-cases with hi-res EO data.
Pricing of high-resolution satellite imagery is controlled primarily by the mark-ups on service expectations, queueing of requests, cloud cover thresholding, and area to be imaged compounded with low swath coverage of the satellites, among many other factors that continue to remain a challenge for us at SatSure. For example, while acquiring a 1.5m stereo data, the final serviced imagery cost was almost 100% more than the brochure rate, with all the 'necessary' and 'commercial' expectations to service our client's needs. On the other side of the coin, the turnaround time for data to access the processed imagery meanwhile has jumped from a theoretical claimed two or three days to well over 10 days in some situations while accounting for the same factors as we did for pricing. As can be seen, EO application companies face not just cost challenges but also operational and service delivery challenges. While developing such advanced tech is no walk in the park for any company, the hurdles are larger for a company from a developing economy, as most of the data sourcing platforms are rarely available in such countries and if so, the supply is scarce.
Hi-Res Optical Satellite EO: Supply Side
EO data just by itself needs other supporting information usually collected on the ground to make it meaningful and create usable solutions. Over time, data processing technology, storage capacity and computational scalability have made it possible to transform 'data' into 'information'. This 'information' along with additional datasets, knowledge, analytics and experience, helps us draw actionable insights and then the solution.
Currently, India is operating 17 satellites for EO applications, with four of them in the geostationary orbit. Cartosat series of satellites by ISRO is one of the best hi-res optical EO satellites in the world, but they primarily cater to the strategic needs of the country. Speaking about the commercial hi-res and very hi-res (0.3 – 2.5m GSD) optical EO satellite operators, a few brands such as Maxar's WorldView series, Airbus Pleiades series, Planet's Skysat, and BlackSky Global's constellations have made a mark in the sector.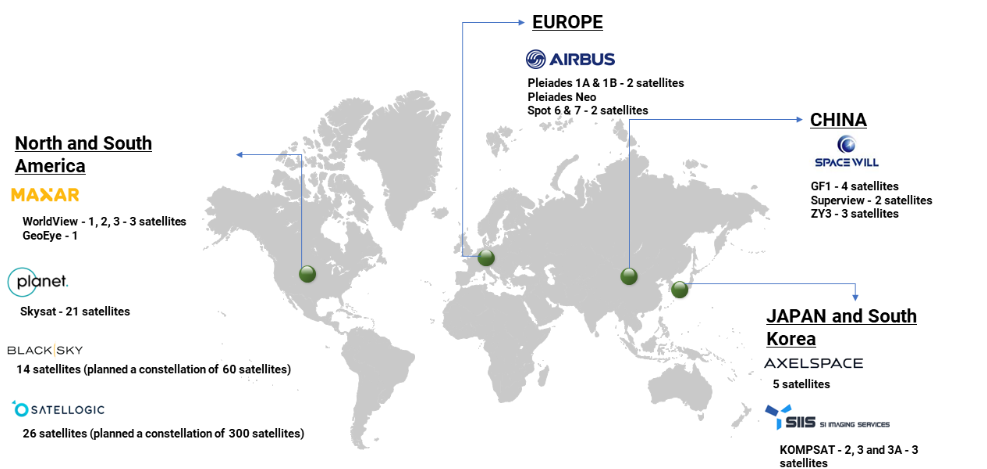 Commercial optical hi-res satellite operators around the world
The Benefits of Hi-Res Optical EO
The state-of-the-art imaging technology of a few leading satellite operators can image the Earth's surface at a 30-cm native resolution. The data is also distributed as 15-cm super-resolved imagery. It feels extraordinary to live at a time when the current technology allows us to detect an object or a feature like tarmac letterings in an airport or type of cars in an open parking lot from an orbit of 600 km. As most of the constellations operate in a polar sun-synchronous orbit, offering a near-global coverage, it results in a near-constant illumination allowing for easy detection of features.
As the technology advances, we can now find the revisit rates of a few existing satellites and their fleets is less than a day, with best claimed revisits going up to 60 minutes. Also, with new constellations including hundreds of satellites in the pipeline, the revisit rates are expected to only get better.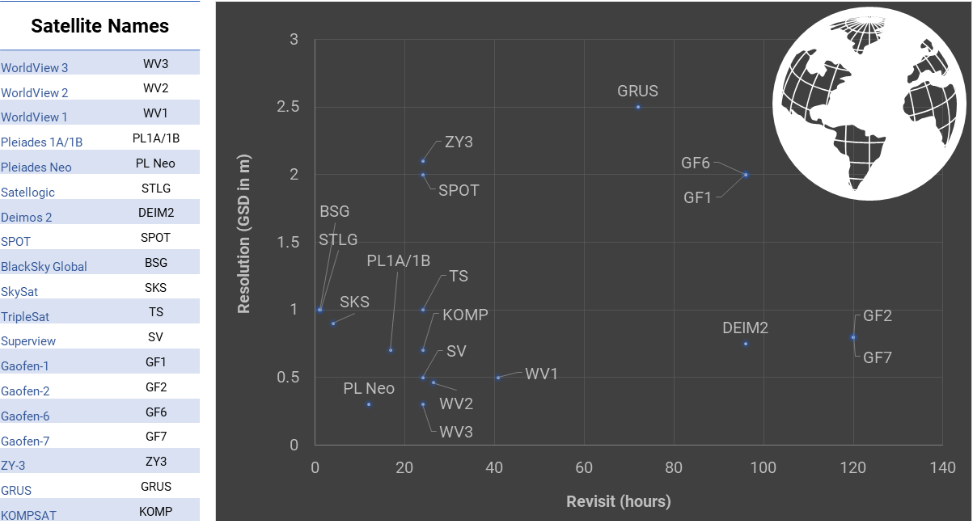 Commercial hi-res optical satellite operators across the world
Challenges with High-Res Optical EO
While technology advancements have definitely helped the high-res EO data sector to flourish, we cannot discount some of the challenges that exist in the market even today.
Challenges such as high cost, and difficult access to data continue to exist making it difficult for downstream companies such as SatSure that are integrating hi-res EO data into their product pipeline. Some of the challenges can be listed below:
Cost of data
Pricing of satellite EO data continues to remain a puzzle even five years after Prateep Basu, Founder and CEO of SatSure, released his article1 "Pricing Puzzle in Satellite EO Markets". As mentioned in the earlier article, the high CAPEX forces the operators to hook on to anchor customers who pay a premium for the data, which is usually defence and/or an institutional body. Even the recent NRO contract announcement2 reinstates the thesis that hi-res EO satellite operators focus primarily on their defence customers. The pricing structure is usually complicated, with each platform having different models. If you have ever tried to buy satellite EO data, and especially hi-res data, you will be faced with a variety of questions which determine the cost.
Access to quality hi-res optical satellite EO data
The best scenario for a customer is to obtain the data at an affordable price point within the shortest time, and the data meets all quality metrics for the identified use case. Data aggregators and marketplaces are attempting to solve the issue of distribution. However, the actual process of buying the data is not straightforward. Which can involve talking to multiple sales engineers, multiple email exchanges, and then trying hard to find data for the required area. The real issue is not actually aggregation or distribution in the case of hi-res commercial satellite EO data, it is the supply. The supply is gobbled up by the government and defence users, leaving very less capacity for commercial downstream companies.
CONOPS & Tasking
Hi-res optical satellite sensors are associated with low swath or field of view. Most of them usually have a swath, which ranges from 5 km to 25 km and tasking is mostly directed by institutional customers who pay a large premium. This creates a bottleneck for commercial application companies. Even with the existing constellation of hi-res satellites, it takes about 30 odd days to cover an area of 200+ sq. km. in a nadir pointing configuration, which is usually a requirement for most automated commercial use cases. The current constellations of hi-res satellites are not suitable to serve a large area analytics applications company.
De-link between upstream and downstream
There is a large gap between the satellite operators and a downstream applications company. While a satellite operator has limited exposure to the problems that a downstream company is trying to solve, at the same time, the latter might have issues comprehending what a satellite can do and cannot do. For example, a downstream applications company should understand the issues in the agility and platform stability of the satellite to point to a certain target. At the same time, a satellite operator needs to understand the features of interest for the specific use case in the area of interest to be imaged. A strong synergy between the upstream and downstream is necessary to create meaningful and scalable solutions.
Envisioning EO the SatSure way
Potentially, no commercial company has organically scaled by building products using hi-res optical EO data, without the defence being an anchor tenant customer. To achieve economies of scale there has to be a large-scale innovation on the upstream segment that is linked seamlessly to the downstream applications and their usability.
We, at SatSure, aspire to establish a harmony between the two ends of the satellite EO industry and build meaningful products for our customers using hi-res optical EO data by focusing on innovation and economic vs scalability fit.
In the subsequent articles, we will dig deeper into how and why we have built our mission for uniquely catering to our 'large area analytics' requirements, which can not be met today despite the current supply of hi-res commercial EO data.