Introduction:
Sarvesh Kurane is the VP of Marketing at SatSure and is responsible for leading all marketing activities. Over four years, Sarvesh has held multiple positions and responsibilities at SatSure. After completing his B.Tech in aerospace engineering Indian Institute of Space Science and Technology, he worked with ISRO, Omnikart Engineering Private Limited, and Industricals.com before joining SatSure.
Bharat Aggarwal heads the product department in SatSure where he plays a key role in defining product strategy, key account management and driving the development of products in their early stage at SatSure. He has also overseen project management, deliveries, client management, and solutions for new clients in different verticals. He is an aerospace engineering graduate from IIST and holds a Master of Space Engineering from TU Berlin. He has worked as a space engineer at the ISRO Satellite Centre for 5 years in the role of test engineer and project manager.
The Design Thinking process is an excellent tool for both product and marketing teams to interact and contribute in the initial stages of the product conceptualisation to lay a strong foundation for the product development and align product marketing. Undergoing the process of design thinking is understanding problems before looking for solutions.
Design Thinking is a process for creative problem solving and lies at the intersection of the following three areas: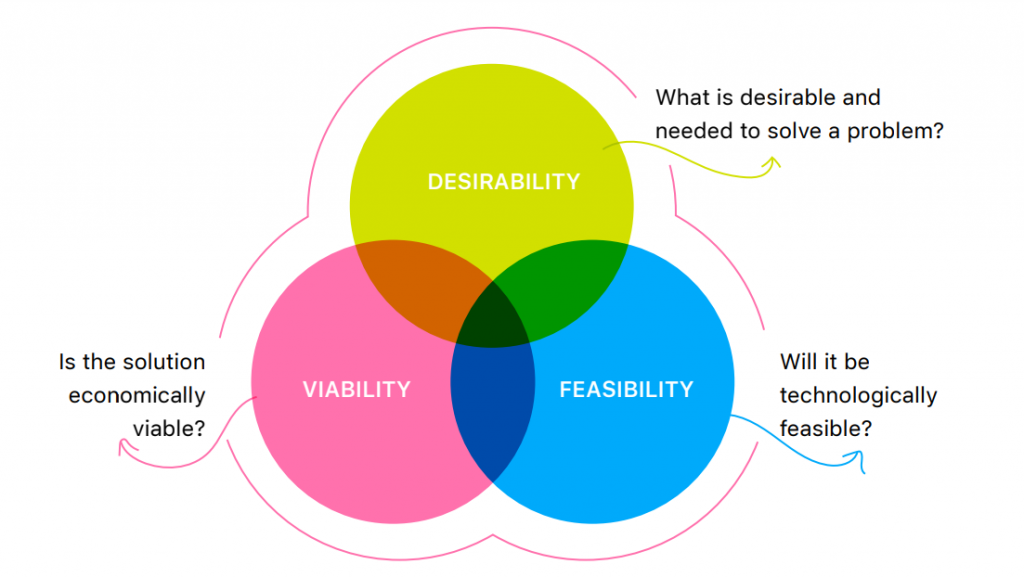 Design Thinking for Marketing & Sales
While the aspect of Design Thinking (DT) has been widely adopted for product design, it plays a vital role in other business-critical areas such as sales and marketing, which are very human-centric jobs. Most professionals rely on their instincts, or their experience, or even on the latest trend to build their sales and marketing strategies. And this is where DT plays a critical role as it combines customer experience, design, marketing and IT into teams that focus on extensive journey mapping to inform marketing and product. Each customer interaction can be examined for improvements, from product to purchase, across all the channels,
It is not feasible to compete purely on technical capabilities in today's fast-moving industry. And that is why DT assumes such a critical role as it can help a company differentiate its customer service from the competition. By identifying the elements of your customer interactions that can be faster and more convenient, DT provides not only a process but a more agile mindset that increases your understanding of your consumers' needs. With DT in place, the freedom to learn about your consumers, test and improve upon your ideas quickly, will ensure that your company can react in time to meet shifting consumer expectations.
While B2C companies are marketing-driven, B2B, and B2G companies are sales driven. This article focuses on the latter only, drawn from our experience at SatSure. We defined the problem first by empathising with not only our customer's needs but also our customer's customer. By doing so, we wanted to ensure that our sales team do not end up wasting time with unqualified leads. And we tried to achieve it by asking our customers and team unscripted questions since this a very human-centric approach.
The Design Thinking Process
It may initially seem challenging to capture all these elements. However, there are specific set standards and frameworks which can be adapted to create a fair design thinking process for both product and marketing.
The following image shows one of the most popular procedures adopted for design thinking:

Design Thinking for Product Branding
The idea behind product marketing is to create the same experience beyond the product through marketing channels. Human interactions, how the product is used, it's persona and its subconscious impact, and a feel-good vs complicated product plays a critical role in product marketing. We build products to solve a particular problem. While the market gaps, user persona, insights, knowledge and pain points are captured through the design thinking process, it needs to feed into the process of product brand evolution simultaneously.
Hence, having a cross-functional team, which comprises of designers, marketers and software developers help capture the different facets of a product journey. A product's utility is not the sole purpose. The emotions it invokes influences its success, purchase, use, and referrals. Thus, having both product and marketing teams involved in the initial stages of user research and product prototype help create a strong brand identity which captures the brand clarity, its consistency, and personality among other facets.
A product's look and feel play as much a role in its success as the actual problem it caters to solve. The entire design thinking process is focused on capturing the market gap, user persona and struggles, which also create a long term brand strategy. The text, colour, content arrangement, tone, texture, icons, logo, all play an equally important role in the success of a product. Considering the product is meant for a human, and they are going to make a purchase decision; the influence will be converted to a purchasing decision only if the user and buyer believe in the story the product is trying to tell. The experience of using the product comes later.
This brings us to an essential step of aligning the product design thinking in a way to capture user journey and using it to tell the product and brand story.
Design Thinking for Brand Consistency across a Customer Journey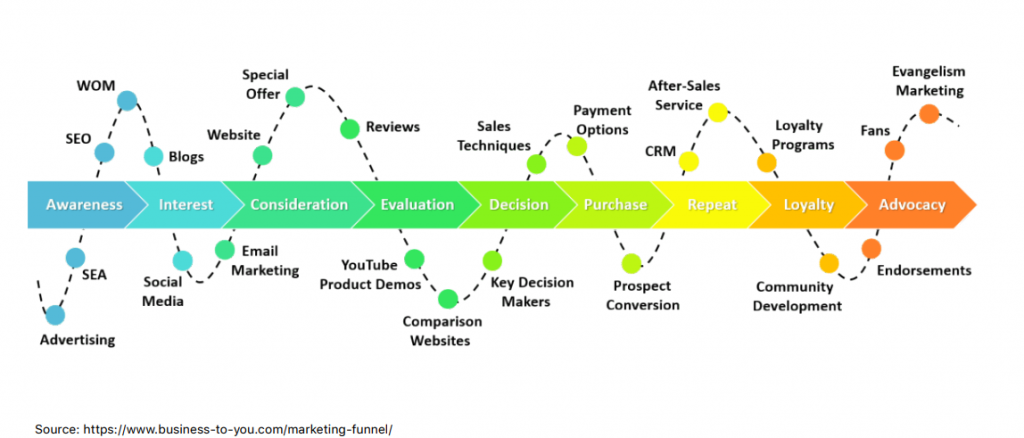 A customer's journey works as a tool to tailor-make the product experience, whether it's online or offline. Empathy, user research and pain points play a role in creating a customer journey and identifying the touchpoints across the journey. These touchpoints, either online or offline, act as a connecting junction to reach out to the customers and influence their experience about the product. The touchpoints help define the product experience stages, as indicated below.
For a company to scale a product, it needs to be purchased by multiple users and organisations. Thus, the product journey plays a role in four essential stages that define the success of a product in the market:
Awareness
The idea behind this stage is to make the customer aware of the product and the problem it solves.
Evaluation
Once the interest of the customer is captured, the customer shall evaluate the product and possibly compare it with competitor products. This is important to help the customers make a decision.
Purchase
Once the customer has decided to buy the product, the next stages define the success of the product.
Loyalty and Advocacy
Loyalty and advocacy play an essential role in the B2B market. Multi-year subscription contracts and advocacy to other potential buyers shall define how well your product fares in the market.
Different communication mediums, as shown in the figure, work at various stages of the customer journey. Thus, having a strong brand identity and consistency across the marketing mediums influences the product experience while using the product as well as not using it.
Design Thinking for Developing a Relationship through the Brand
In today's competitive world, loyalty towards any product is difficult to find. Emotions and external factors drive the decision to stay loyal to a product. Product features, functionality, ease of adoption and replacement, price play a role in capturing loyalty. However, the decisions associated with the product are taken by a human, and hence we cannot discount the role of emotions. Design thinking helps understand the necessary building bricks to create a stairway for a loyal client-product relationship.
The customer also has social and corporate roles to play. We can use empathy to define these roles and associate it with a product. This shall help create a long-lasting connection which spans across the customer journey; in turn, we can use the numerous touchpoints to create a story about the brand, relationships and align them with the company's vision. This larger than life image drives decisions beyond just the product and helps create a robust subconscious identity in the minds of the customers for the product.
Bridging the Gaps
The purchase decision for clients depends on the goals they are trying to achieve, its driving factor, and its fit in their existing system. Design Thinking helps get a grip on the emotions, feelings, perspective, and persona of not just the client but the market as a whole as well. Using this approach, great marketing strategies can be built that convey a strict brand identity while having a focused product development to have a subconscious impact through the product as well.
These existing needs and gaps can be filled by a simple approach that requires a multidimensional approach which can be brought about by the collaboration of different thinkers, approaches, and diversity brought by marketing, design, and product teams. The stiff competition requires not just robust technology but also a creative take on the entire customer journey, and Design Thinking helps provide this platform for product and marketing evolution for today's B2B market.
Written by Bharat Aggarwal, VP – Product, SatSure and Sarvesh Kurane, VP-Marketing at SatSure. This article was first published in The SatSure Newsletter