SatSure has a new office and headquarters located at Brunton Road in Bengaluru, India, and it is quite special to us. We call it our new home, not just because we work here, but because every team member, old and new, has helped build this office. Whether it is the office design, procurement, or installation, every team member has contributed in some way. On July 5, 2022, Mr. S. Somanath, Chairman ISRO, Secretary DOS; and Dr. B N Suresh, Chancellor, Indian Institute of Space science and Technology (IIST), Honorary Distinguished Professor, ISRO, inaugurated our office as the Chief Guest and Guest of Honour respectively.
Like most startups, we, too, began our journey from a co-working space above a garage in Bengaluru, which was a big step for us back then. The idea of using satellite remote sensing for the benefit of farmers came to our founders during a cab ride with a driver who was a migrant farmer having to earn his livelihood by working for someone else.
SatSure took baby steps to grow in the early years and had our first round of investment in 2020 through Baring Private Equity India, followed by Asian Development Bank. As we grew, we had to expand our family and onboard new members. We could have continued working from a co-working space; however, the need to have our own space was more than just additional seats. It was about building an area that could drive collaboration and innovation, which are vital to our work.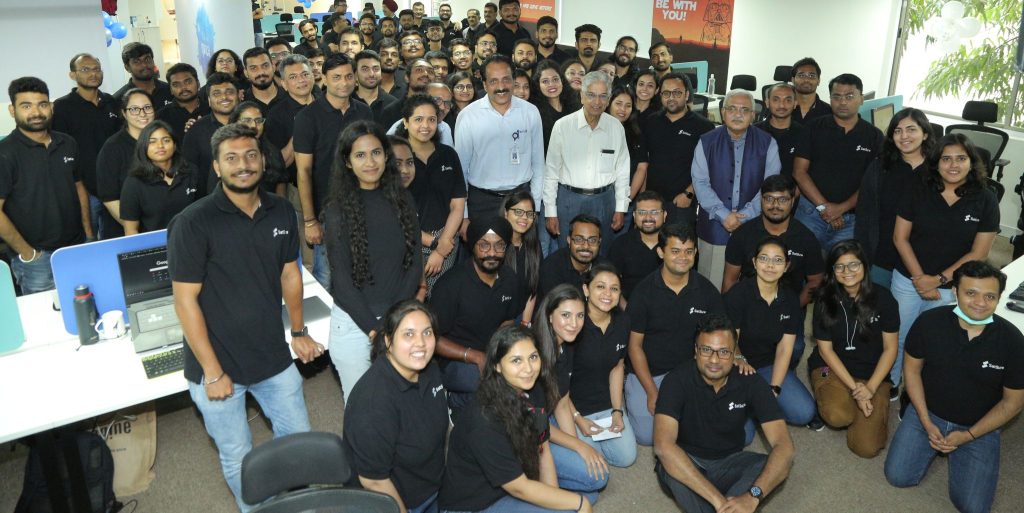 Build By the Team, For the Team
Alex "Sandy" Pentland, in his 2012 HBR article, writes about the three key elements necessary for effective communications – exploration, engagement, and energy.
'Exploration' is about interacting with people in many other social groups, 'engagement' focuses on interacting with people within your social group in reasonably equal doses, and energy is about interacting with more people overall.
Image Source: Workspaces That Move People, Harvard Business Review, October 2014. (https://hbr.org/2014/10/workspaces-that-move-people)
Though we had not read the article while building the office, we had our ideas about the objectives behind the office space and how it should help each team member achieve individually and as a team. We wanted to build a space that allowed all the groups with different work profiles and operations come together to work within their groups and have a space to interact and exchange ideas. Most of the groups, such as data science, remote sensing, product, business development, finance, marketing, customer success, etc. have dedicated spaces.
To enable cross-functional interaction, we focused on two forms of possible engagements. One is where our members can engage in physical activity, allowing them to divert and de-stress; another is a space that will enable a comfortable environment centered around having a peaceful diversion. 'Launch Pad,' is a space where all the teams work on the same floor. It is a common work area where each department has been allocated a space, tackling the element of 'engagement.'
'Refuel' and 'Space Out' are our areas that take care of 'exploration' as an element for effective communications. Refuel is essentially a cafeteria, while Space Out is very unique. It is located at the centre of the Launch Pad, with open space for cross-functional interaction and exploration. Having all different teams working on the same floor with dedicated breakout areas has allowed us to have inter and intra-team interactions.
Planning for Inauguration
We officially kickstarted work for the inauguration on June 14, 2022. The inauguration was planned for July 5, fifteen working days before the event., We also had esteemed guest listincluding Mr. S. Somanath, Chairman at ISRO, as the Chief Guest, and Dr. B. N. Suresh, the founding director of IIST, as the Guest of Honour. Senior leaders from our ecosystem, advisors, and investors were also present at ourinaugural event.
While planning an inauguration in such a short time had its challenges, for us, it has always been about our team and team members coming together to solve these challenges.
We created a four-member core team to plan and execute the event. The core team was kept small to enable quicker decisions with the CEO and COO of SatSure as a part of this team. Our CDO, Rashmit Singh Sukhmani, took over the hospitality and inauguration preparations. Our product designer and visual communications designer, Grishma and Ayushi, took care of interior designs and wall arts. People volunteered in the hospitality team for different responsibilities, like gifting, decorations, vehicle coordination, photography, and videography.
Every team member contributed to making the inauguration a grand success. SatSure's core values do not only come into play while working but are integrated into the very DNA of the members.
These fifteen days highlighted the core values on which SatSure is built.
Effective Communication
Collaboration
Problem Solving
Empathy
The office holds a significant position in the team members' hearts. Maybe due to this, we all readied our workplace together instead of letting other professionals handle it.
Our inauguration was not about our new workplace but a special event for all of us to revisit our journey to date and realize our potential to do more and better. Representing the company before the industry stalwarts on a special day instilled a feeling of collectiveness in us. The common feeling of collectiveness was reflected when the team first entered the brand new office and worked together for the organization's success.
The Inauguration Day, July 5, 2022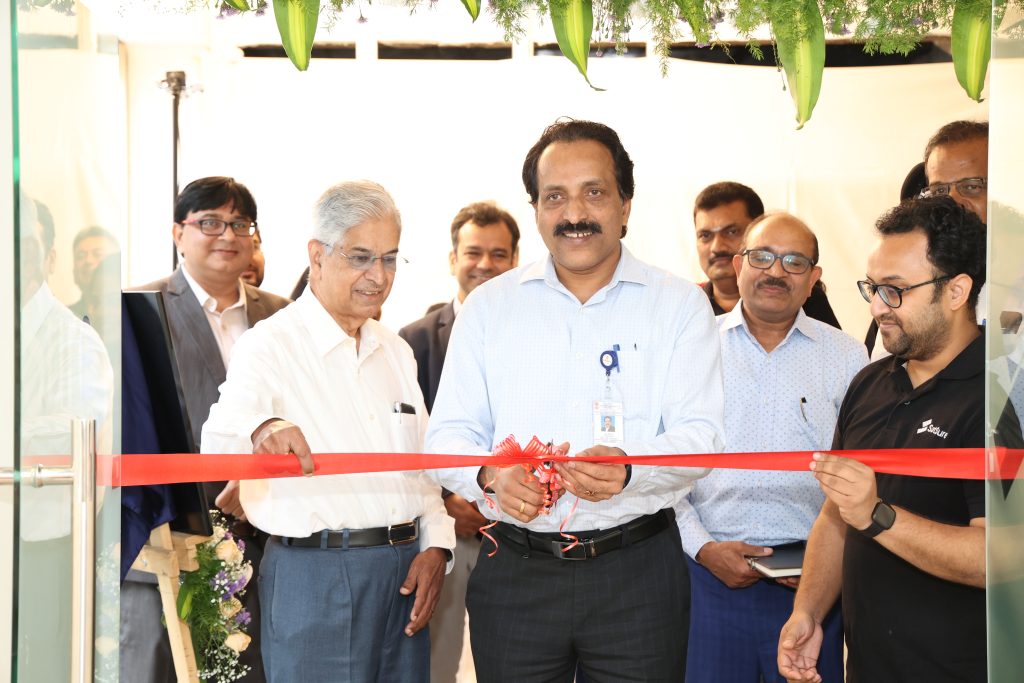 The industry leaders not only graced us on our special day to support us but also gave us their time to learn about SatSure's work and share their opinions on how we can further accelerate.
The leaders discussed using earth observation satellites to create societal value and tackle global climate change issues and financial inclusion. Our Founder and CEO, Prateep Basu, in his LinkedIn post had discussed about his 5 years of experience as an entrepreneur. He believes this to be one of the small milestones of SatSure. "An office space without its people is nothing. We hope to see the space filling up with more employees and eventually outgrow the space to move into a new one."
Upstream: A New Territory to Explore and Succeed
During this occasion, we also launched our subsidiary KaleidEO to solve challenges around imagery acquisition in the upstream sector. The subsidiary was incubated within SatSure last year. It will currently focus on building hi-res optical payloads, which will be integrated on four commercially sourced satellites.
At the moment, KaleidEO will be focusing on building hi-res optical payloads which will be integrated on four satellites sourced commercially and then have a diverse set of sensors in the coming future. The products will include raw imagery, processed data and insights from the payload's EDGE processing unit, hosting SatSure's proprietary AI/ML algorithms.
We began in 2017 as a startup, but today we are growing and building unique space tech solutions to empower our clients with decision intelligence. While we have come a long way, this is still just our beginning.