The global population is expected to grow to 9 billion by 2050, as per the World Population Prospects 2022 by the United Nations. The last few decades have seen tremendous growth in agriculture production facilitated by improved seeds, irrigation conditions, adoption of mechanization and fertilizers worldwide. This has also impacted smallholder farmers positively. For instance, in developing countries like India, Green Revolution and White Revolution initiatives have improved food security. However, the agriculture sector continues to face many difficulties, primarily due to slow technological advancements over the years.
Climate change and population growth will put significant strain on the capacity to produce food, posing a threat to food security. For instance, according to the FAO and Earthscan report, by 2050, the food production demand is expected to grow 100 per cent more in developing countries relative to 2009. However, the average availability of cultivated land per capita in low-income countries is less than half that of high-income countries. Additionally, the water supply and arable land are on the decline. In such times, we should ask ourselves how to increase production while minimizing the damage to land and water. The answer lies in the adoption of sustainable practices. The next phase for agriculture, thus, has to be a connected ecosystem, an ecosystem driven by data.
Problems of Developing Countries
For most developing countries, the agriculture sector faces many challenges, including fragmented landholdings that hinder productivity, unpredictable weather conditions augmented by climate change, and a shrinking young workforce that prefers blue-collar jobs.
Farmers in the developing world now have instant access to real-time market information on their mobile phones thanks to technological advancements, the proliferation of mobile devices, and falling Internet tariffs. They no longer need to travel long distances to learn about commodity prices or rely on a long chain of intermediaries to sell their produce. Providing only price discovery mechanisms or market linkages, on the other hand, is insufficient to create a genuinely cohesive Agri economy. Since it all starts on the farm, additional efforts should be made to provide farmers and field officers from public and private organizations with actionable insights that make farming easier, more predictable, and more data-driven.
Thus, the success of the connected ecosystem lies in the digital infrastructure maturity in the region of interest. According to a BCG study, there are four stages of 'Digital Agriculture Maturity', as shown in the image below.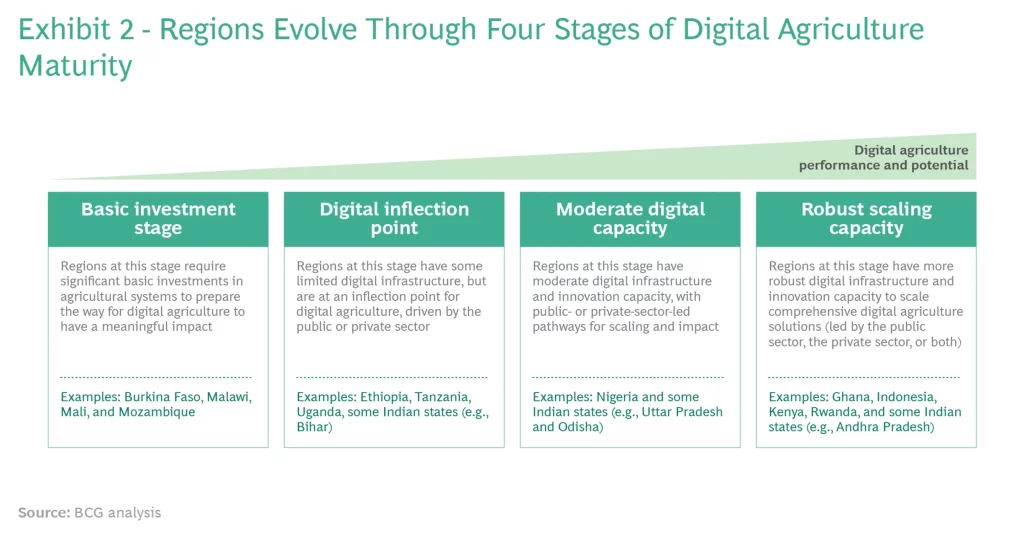 Towards A Redefined 'Connected Agriculture'
To enhance farm productivity, it is pivotal for organizations must use cutting-edge technologies such as Artificial Intelligence (AI), Machine Learning (ML), Deep Learning (DL), Internet of Things (IoT), and satellite-based Remote Sensing (RS) to help Indian farmers with accurate insights on what to grow when, how to grow, and when to harvest. Depending on the maturity stage of the area of interest, the relevant digitization solution can be built. SatSure's collaboration with CISCO demonstrates the different use cases which can be built with a connected agriculture ecosystem driven by the maturity of the digital infrastructure in the region.
The Use Case
CISCO – one of the global leaders in advanced communication systems, already had a robust IoT suite for diverse agricultural use cases. Cisco has been working on enhancing farm productivity by deploying technologies like big data, intuitive field sensors, and advanced data analytics.
As a next step towards building an interconnected environment that can facilitate better decision-making, a solution backed by IoT and satellite imagery is created by combining large-area analytics and real-time in-situ measurements.
Traditionally, this is done by deploying field staff who would manually visit each farm to track the crop journey. Experiencing that the manual process was prone to many inefficiencies, Cisco has partnered with SatSure to harness its expertise in geospatial intelligence for satellite imagery-based remote crop monitoring.
Infusing Remote Sensing And IoT To Enhance Farm Productivity
SatSure and Cisco collaborated to develop a robust solution stack for intelligent crop planning, advanced crop health management, and yield analytics for one of the largest states in southern India.
The solution stack consisted of three interconnected layers:
Cisco's sensor management system
Cloud-based platform
SatSure's advanced remote sensing analytics powered by ML and DL algorithms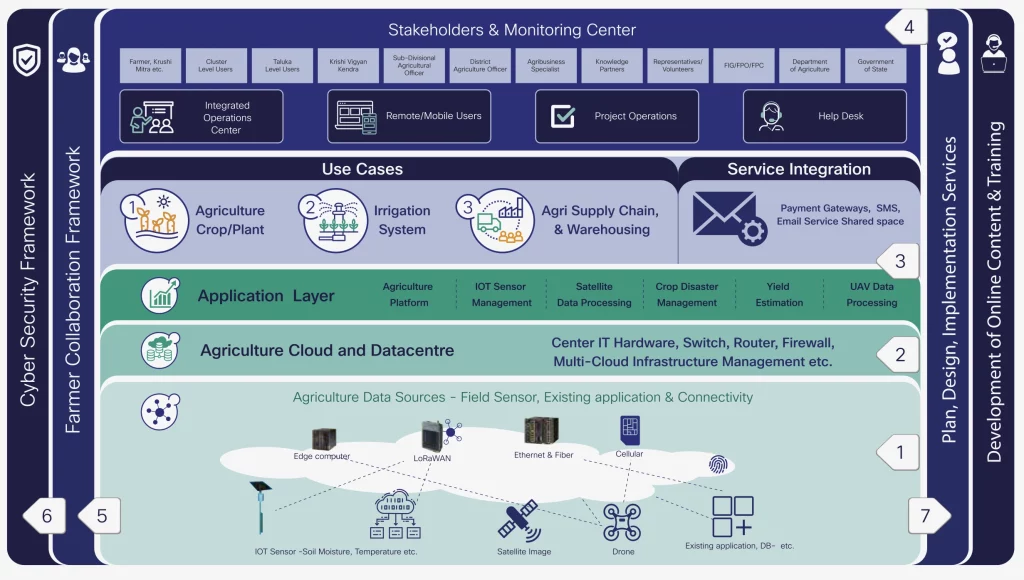 Image Source: Cisco Connected Agriculture.
By installing IoT devices riding on Cisco's LoRaWAN and IR829 gateway infrastructure at strategic farm locations, SatSure's solution stack helped the state analyze the satellite data in real time to generate actionable insights for farmers to carry out precision farming.
In another example of infusing remote sensing intelligence with IoT devices, SatSure and Cisco collaborated on a new smart agriculture initiative for a district-level government body in southern India.
Primarily focused on paddy farming, the project deployed multiple sensors to seamlessly track crop growth, soil health, and real-time microclimatic conditions like wind speeds, humidity levels, etc. To bring enhanced efficiencies in shrimp farming, additional sensors were deployed to assess dissolved oxygen and possible disease outbreaks.
The data obtained from these sensors were then collated in an intuitive dashboard across three locations – at the farm, near the Panchayat office, and at the agriculture department office. To take it one step further, farmers were provided mobile apps to allow Village Knowledge Centers to monitor their farm performance centrally.
To Sum It Up
Connected agriculture can develop intelligent farming practices which can be focused on sustainability. In our case, the primary objective of the solution was to offer real-time actionable insights to enhance farm productivity, optimize field operations and increase incomes by combining the power of real-time insights from IoT and large-scale monitoring capacity through satellite imagery. The integrated IoT devices and remote sensing analytics offer precision for several aspects, adding reliability and credibility to the entire agriculture value chain. Combining these two helps reduce investment costs as localized predictive decisions can be taken for a region of influence instead of needing IoT sensors at each farm.
To learn how SatSure can help you resolve your Agri challenges, please feel free to write to us by Clicking Here or visit us at www.satsure.co.