Introduction
Shriya Vij is the Strategy and Marketing Manager, SatSure. She is working towards creating product pricing and financial models along with supporting marketing and corporate growth initiatives. Prior to this, she interned at multiple organisations such as NTPC and IFFCO Ltd. Academically, Shriya has PGDM with dual specialisation in Finance & Marketing and also is an Economics Honours graduate.
Did you know that the major causes of climate change are also the reason behind pandemics?
Climate change, indeed, is the thorniest problem that we endure, and it is real. The pandemic is just a teaser for the cascading effects of climate change that are yet to happen, adversely impacting us on a personal level. However, the difference between the pandemic and climate change is that the latter is not unanticipated. We are already aware of it; whether we will face its disastrous effects is in our own hands. We can fight climate change, but the most crucial element required for that is cooperation, and nothing unites people or nations like a common enemy.
Conference of Parties is one such effort to bring together all the member nations for assessing progress in combating climate change. For instance, the famous Kyoto Protocol was adopted in 1997 (COP3) & came into force in 2005 (COP11) to set the individual targets for industrialised nations and economies in transition to limit and reduce greenhouse gas emissions. Then was the historical outcome of COP21; the Paris Agreement – the first legally binding international treaty on climate change which united 196 parties to achieve the goal of limiting global warming to well below 2, preferably to 1.5 degrees Celsius, compared to pre-industrial levels. The 26th Conference of Parties (COP26), held from October 31, 2021, to November 13, 2021, served as the third meeting of the parties to the Paris Agreement (where the nations reached a mutual consensus and completed the Paris rulebook- the operational details for the practical implementation of the Paris Agreement) and the 16th meeting of the parties to the Kyoto Protocol.
The outcome of COP26 was the Glasgow Climate Pact. It consisted of an agreement to re-visit emission reduction plans in 2022 to keep the 1.5 °C Paris Agreement target achievable, commitment to phase down unabated coal power and inefficient subsidies for fossil fuels, and fulfilment of the pledge to provide 100 billion dollars annually from developed to developing countries.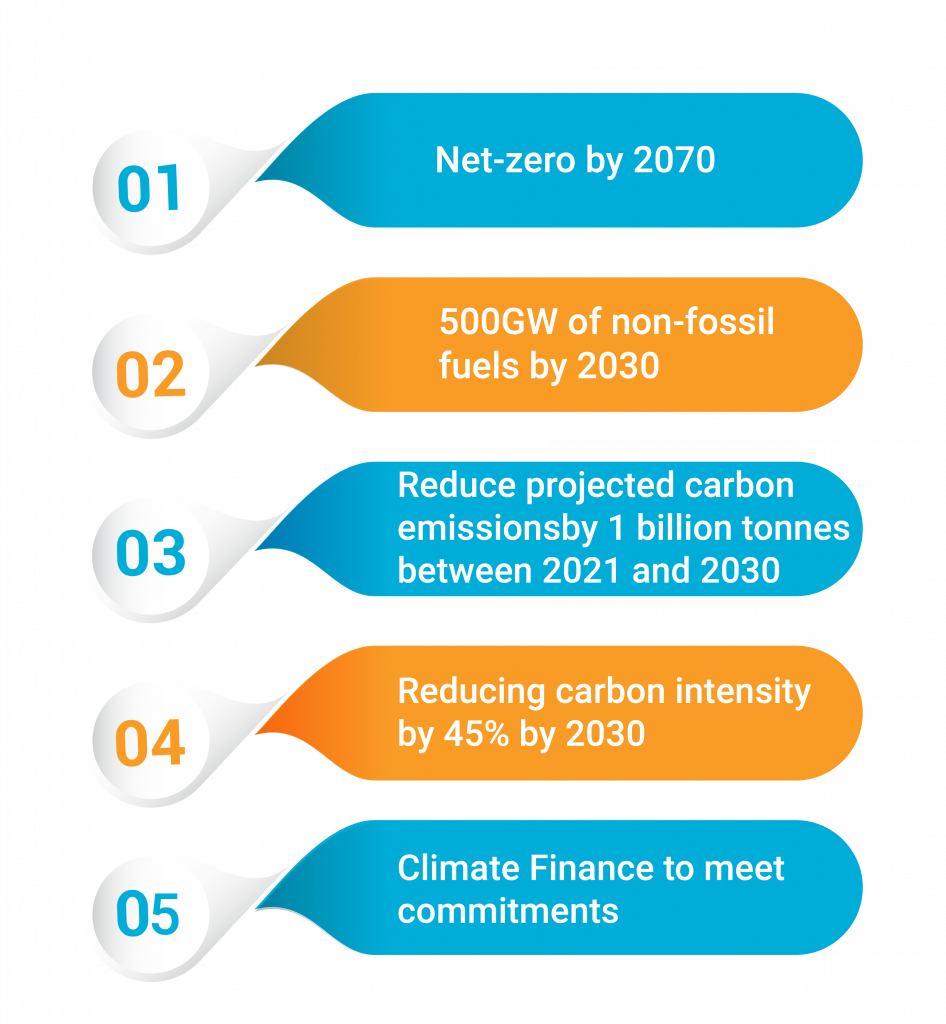 SatSure at COP26 – As the Strategic Partner at the Agri-Food Transition Summit
The deliberations to form the Glasgow Climate Pact wasn't the only highlight of COP26. There were various other summits and events held across different zones during the two-week conference. One such event was the Agri-Food Transition Summit at the Innovation Zone presented by Climate Action with the technical collaboration with the Food and Agriculture Organization (FAO). It aimed at connecting the global agri value chain from farm to fork, driving the momentum towards real change to deliver the UN's SDGs.
SatSure, having rich experience in helping financial institutions, AgTech, and ClimateTech firms to contribute to the SDGs, found this summit as the perfect platform to promote the application of Earth Observation (EO) satellites and Geospatial data-based insights for supporting climate action, especially in the agriculture sector.
Being the Strategic Partner at the Agri-Food Transition Summit, SatSure promoted the following applications of its insights/solutions driven by EO satellites & Geospatial data to support climate action:
1. Risk Monitoring
The effects of climate change can be understood using near real-time geospatial data-based insights. These insights will support appropriate policymaking and accurate risk estimation for insurance & lending, leading to enhanced capability of the financial institutions for designing & offering improved financial products.
2. Mapping the Emissions
Remote monitoring of the Areas of Interest (AOI) to map the emissions is the most scalable and affordable solution.
3. Managing the Methane Pledge
Satellite data has the potential to accelerate the implementation of the methane pledge.
4. Climate Adaptation
Satellites can be an important contributor for monitoring and controlling climate adaptation by providing global, accurate and repeatable data. This method is particularly essential in countries where ground-based monitoring networks are not scalable & expensive.
5. Carbon Sequestration by Forests & Agriculture
Forests and agricultural activities are the major carbon sinks if sustainable practices are adopted. Remote monitoring of the adoption of these sustainable practices through carbon sequestration measurement in forests and agricultural fields is an affordable & faster way. This approach can open avenues of income generation for foresters & farmers as they could sell carbon credits earned through carbon sequestration.
SatSure's Actions Aligned with Goals of COP26
SatSure is already contributing towards the four goals of COP26.
Mitigation
SatSure's product suites — Sage and Skies — enable the BFSI and Infrastructure sectors to digitally transform their processes, helping them cut emissions indirectly. The emission reduction happens due to: (1) Digitally transformed enterprises using fewer resources which also increases efficiency, and (2) Savings on the bottom line can potentially be invested to adopt sustainable practices and comply with Environmental, Social, and Governance (ESG) norms.
Adaptation
SatSure is conducting impact studies for prime organisations in the forestry sector, helping them assess parameters such as carbon sequestration, standing forest biomass, carbon maps, deforestation and land use/land cover.
Finance
Our focus on ESG, sustainability & climate action continues to attract investors. We are also helping in mobilising finance in the form of credit & insurance to farmers through our solutions for the financial institutions.
Collaboration
We often collaborate in the form of strategic partnerships & associations to promote sustainability. Our recent collaborations include:
Partnering with an organisation to promote sustainable agriculture and digital economy in West African markets.
Joining the Integrity Council for Voluntary Carbon Markets (IC-VCM) as a consultation group member.
Moreover, we also encourage open innovation through our platform, Sparta, where AgTech and ClimateTech stakeholders can leverage the platform to develop innovative solutions.
SatSure's Plans for Climate Action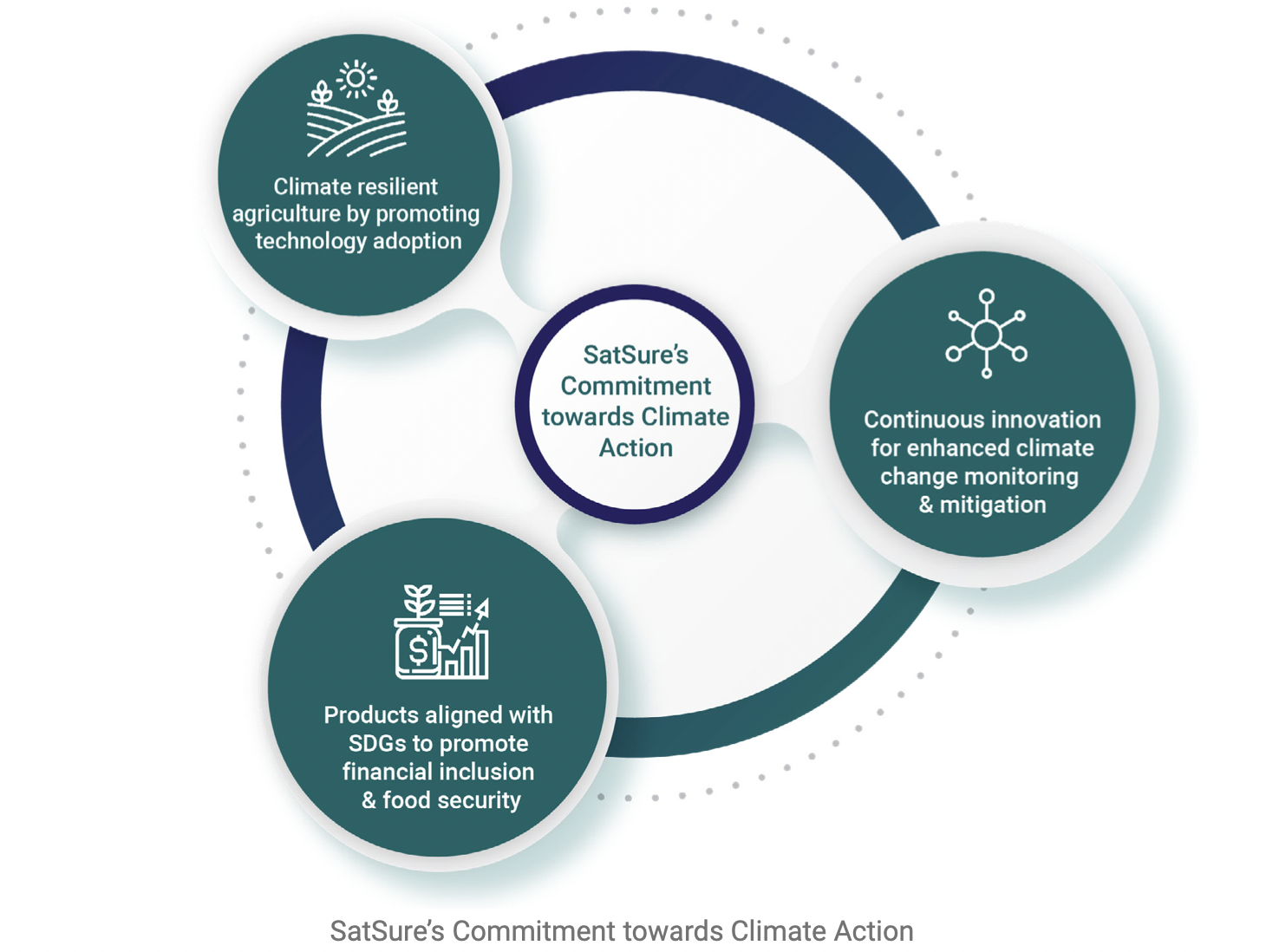 Our ambition is to help enterprises fight climate change and contribute to SDGs. Currently, we have an engagement with some of the prominent firms and institutions as the provider of insights in the forestry domain. Our accurate, near real-time insights, are time and cost-effective, helping clients reduce operational and business loss, and take decisions towards adopting/ monitoring sustainable actions.
We plan to leverage our platform – SatSure Sparta – to build tools for measuring the regenerative carbon potential of agricultural lands, forests and, conduct impact studies to validate our clients' sustainable solution/technology.
Our solution addresses the challenge of transparency for buyers and value creation for farmers and foresters in the current carbon credit marketplace by providing high accuracy insights and building operating models (through partnerships). This approach will empower farmers and foresters to adopt sustainable practices by investing the additional income generated through the sale of carbon credits.
The sponsoring of the Agri-Food Transition Summit as the Strategic Partner was an enriching experience for SatSure. Our participation was an opportunity to come across mind-blowing innovations demonstrated by various stakeholders, identify potential collaborations, and get inspired to use our decision intelligence from space for developing new solutions to combat climate change. We are already working with our clients and partners to enable the adoption of sustainable practices and look forward to more collaborations to expand in the climate action & sustainability segment.

Written by Shriya Vij, Strategy and Marketing Manager, SatSure. This article was originally published in The SatSure Newsletter [TSNL]