Introduction:
Dr. Nadine Alameh is the CEO at Open Geospatial Consortium. He is the former CEO of Snowflake and acted as the Senior Technical Advisor at NASA and a recognised leader in creating and applying open geospatial/mapping standards. She graduated from MIT with a Ph.D in Information Systems Engineering and 2 Master's Degrees in Civil Engineering and Urban Planning with a concentration in Geospatial Information Systems.
Q. Can you explain a bit about the Open Geospatial Consortium's (OGC), like what led to its creation, mission, and key stakeholders?
Dr. Nadine Alameh: First and foremost, I consider the OGC to be a community; specifically, a committed collective problem-solving community of geospatial professionals and consumers dedicated to collaborating on making location information FAIR – Findable, Accessible, Interoperable, and Reusable. By working together on challenges from disaster response to climate change to infrastructure and smart cities, the OGC community focuses on integrating the data and interoperating the systems so that we can get from data to decision-ready information to impacts!
By working together on the interoperability gaps, we develop internationally ratified open-consensus standards that are freely available to anyone and everyone! When we work together, the community demonstrates the possibility of scenario-driven activities. That's the heart of the OGC Innovation Program – demonstrating the possible as innovations come and go, new sources of data come and go, new technologies come and go, and as new markets even come and go! The OGC community has been doing that for 27 years. Now with the explosion of data, the recognition of the value of location and the maturity of cloud and space technologies, this community is thriving!
I'm very proud of how global and diverse OGC is! We have 540+ members from all over the world, distributed evenly amongst industry, government and academia. Our strategic government members (the highest level of membership at OGC) include NASA, ESA, NGA, USGS, FAA, NOAA, UK Ordnance Survey, UK Hydrographic Office, Natural Resources Canada. Our industry members range from the large businesses to the startups (the fastest-growing group these days!) and from the geospatial to the mainstream businesses to include Esri, Hexagon, Trimble, Oracle, Google, Microsoft, AWS, Apple, MAXAR, Planet, and many many others.
I encourage the reader to check out the list at https://www.ogc.org/ogc/members and learn about many of the new startups that have joined us, injecting their expertise in cloud, AI, analytics, and more.
Q. What have been some of the key achievements of the Open Geospatial Consortium since its founding?
Dr. Nadine: Since its founding in 1994, OGC has impacted so many areas of our life! Perhaps OGC is most known for the suite of OGC Web Services that has underpinned Spatial Data Infrastructures everywhere. According to GeoSeer, there are over 2 million distinct spatial GIS Web Map Service WMS, Web Feature Service WFS, Web Coverage Service WCS and Web Map Tile Service WMTS datasets hosted on over 280,000 live services from around the world!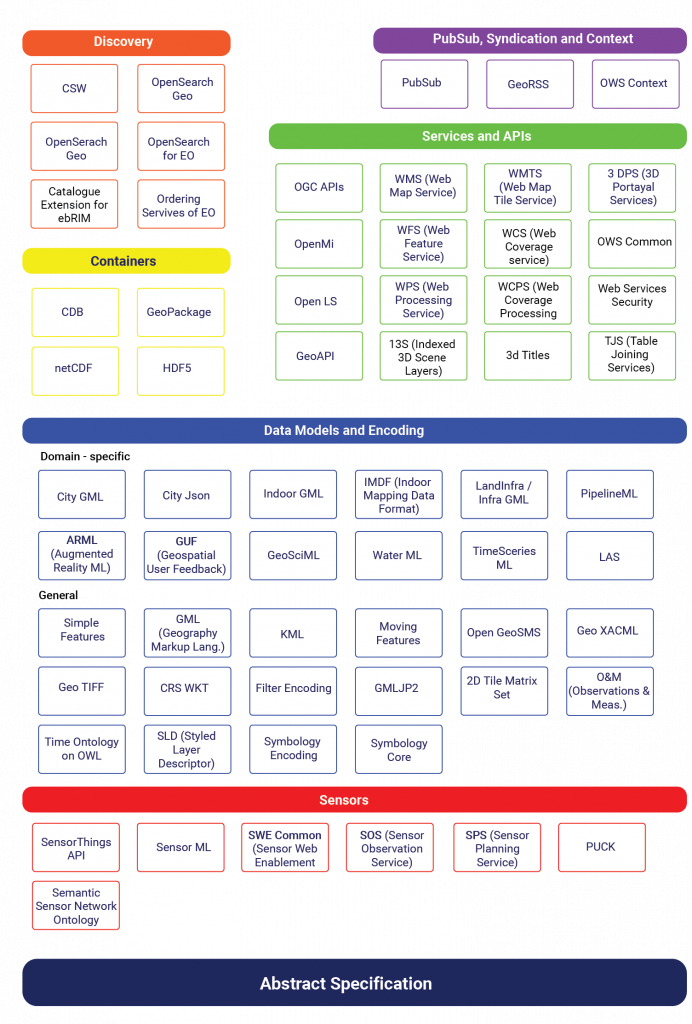 Did you also know that KML, GeoTIFF, NetCDF and HDF5 are OGC Community standards? Developed by the community of experts and brought into OGC to maintain and evolve! Again, I encourage the reader to check out the list of standards on our website (see figure).
Beyond the standards, OGC's key achievements over the last 27 years are bringing the community together to experiment together on THE problems of the day in the OGC Innovation Program (effectively OGC's R&D lab). The Innovation initiatives cover domains from Marine to Agriculture to Disasters & Climate to Pandemics to Aviation to Defense and Public Safety while leveraging technologies from IoT to Earth Observations, GeoAI, multi-cloud federations, security, to Open APIs. Perhaps OGC's key achievement has been to bring together the community to iterate on the development of standards and testing of innovations in an open, collaborative forum!
Most recently, we have begun to capture some of the impact stories of our membership in a series of blogs which I would encourage the reader to check out!
Q. You have had a long association with the Open Geospatial Consortium since its early days. We would love to see from your eyes how it has evolved over the years.
Dr. Nadine:I love this question! Because I have always said that when a person is "once OGC, they are always OGC"! That's very true for my journey with OGC. I had experienced OGC as a student/researcher while at MIT when we collaborated on the first OGC Innovation Program to develop the Web Map Service standard. I have experienced OGC as a sponsor representative for NASA, hence injecting requirements related to discovering and accessing large earth observation data via OGC standards. I, later on, experienced OGC as a small business, actually starting a business in Aviation data exchange by leveraging the principles of interoperability and geospatial information exchange that I learned at OGC. And I got the opportunity to experience OGC as the Executive Director of the Innovation Program (what I used to call the fun part of developing standards!).
And now I get the honour and pleasure to bring it all together in my role as CEO. It's fascinating to be part of OGC these days, let alone lead the organisation. Why? Because the whole world has changed since the inception of OGC!
The world has finally appreciated the value of location, so what used to be a small geospatially-savvy community is now literally every business and every application using Location! The opportunity for impact is so much greater now! That's why we are making our standards way more implementer and developer-friendly to enable the non-geospatially savvy developers to consume location-based information ☺
We are also dealing with a whole new generation of users/consumers (I used my kids as examples in pretty much every one of my talks) who have grown up with iPhones, Alexas, sensors, learning about space (SpaceX made that pretty cool for this new generation!), and growing in the metaverse (the whole new frontier for geospatial combining the real and the virtual world!).
And sadly, we are also dealing with some pretty complex global challenges like climate change and pandemics! And I believe that the only way we can address such global threats at a global scale is if data is made available using open standards. As long as there are problems that transcend the boundaries of departments, organisations, agencies, countries and continents, we will continue to need agreed-upon standards to share information and implement solutions at those scales.
It makes sense then to evolve with the times! And that's what we are doing at OGC, from modernising our standards to develop the OGC APIs (the future building blocks for Location) to modernizing how we develop standards to match the pace of innovation and the demand for geospatial as the glue for the world's applications! That's why we find ourselves advancing activities like geopackage (for exchange of information for mobile devices) to 3D data representation and streaming, to SensorThings and sensor-fusion, to indoor mapping with IMDB and IndoorML, to dabbling with GeoAI and supporting GeoBIM interoperability for smart cities. The opportunities are limitless these days, and the need for interoperability is high!
This article was originally published in The SatSure Newsletter [TSNL]