Introduction
Hemendra Mathur is the Venture Partner at Bharat Innovation Fund, a deep tech sector agnostic fund and Co-Founder of ThinkAg, a not-for-profit platform for accelerating the adoption of innovation in agriculture. He has over 12 years of experience in early-stage and growth capital investing as well as over 12 years of management consulting and investment banking experience in the food, agribusiness, retail and consumer goods industry for corporates as well as the Government of India and state governments. He also serves as the Chairman of the Task Force on Agri Startups at FICCI, India.
Q) If you had to draw comparisons between Indian AgTech in 2015 and now, what would be the most critical changes you think will go on to define the new decade?
Hemendra: A lot has happened in the last five years, with the inflection point for Indian AgTech being the year 2017, when many smart, well-qualified entrepreneurs entered the fray with strong tech backgrounds and brought in equally strong teams, with years of corporate and tech experience behind them. This brought a sea change in how tech was envisioned to solve the agriculture sector's challenges. For the first time, we saw these ideas in action to improve farm economics and drive efficiency in a complex food supply chain.
The faster-than-expected adoption of data and technology interventions by the farmers and the value chain players in the seeds, fertilisers, food processing, insurance, and banking sectors over the last three years is a defining point in making business models for AgTech work. In comparison to the industry in 2015, two established things are the path to scale for AgTechs and growing investor interest in this sector. In 2020 alone, 53 deals closed in agritech, which is astounding, despite it being a pandemic year.
However, I feel that two things are still missing in this equation – a path to sustainability (across all AgTech segments) and penetration of real deep tech solutions in AgTech. Most of the AgTech models currently are supply-chain oriented, which is the low hanging fruit for the entrepreneurs and the investors. The AgTech sector has a lot of potential to develop and absorb deep tech, including digital tech (sensors, IoT, blockchain, machine learning, image processing applications) and biotech (biostimulants, bio fertilisers and bio pesticides; gene editing, microbial applications, food nutrition etc.) However, it is still untapped due to the lack of enough innovations and early-stage adoption challenges.
It is also interesting to note that the scope of AgTech is expanding; for example, we now have AgriFinTechs, Farm robotics, Vertical/indoor farming verticals propagating with unique and differentiated business models.
As far as agfintechs space is concerned, we have a huge opportunity of $200 billion the priority sector lending in agriculture, with another $100B gaps each for post-harvesting financing and ancillary industries such as dairy, aquaculture, livestock, etc. This opportunity to me is bigger than the mortgage or urban-centric personal lending market. As the organisation of the agriculture supply chain keeps improving, it will offer more opportunities for digitisation and more so for AgFinTechs to enable deeper penetration of institutional lending, digital payments, savings, parametric insurance to the sector.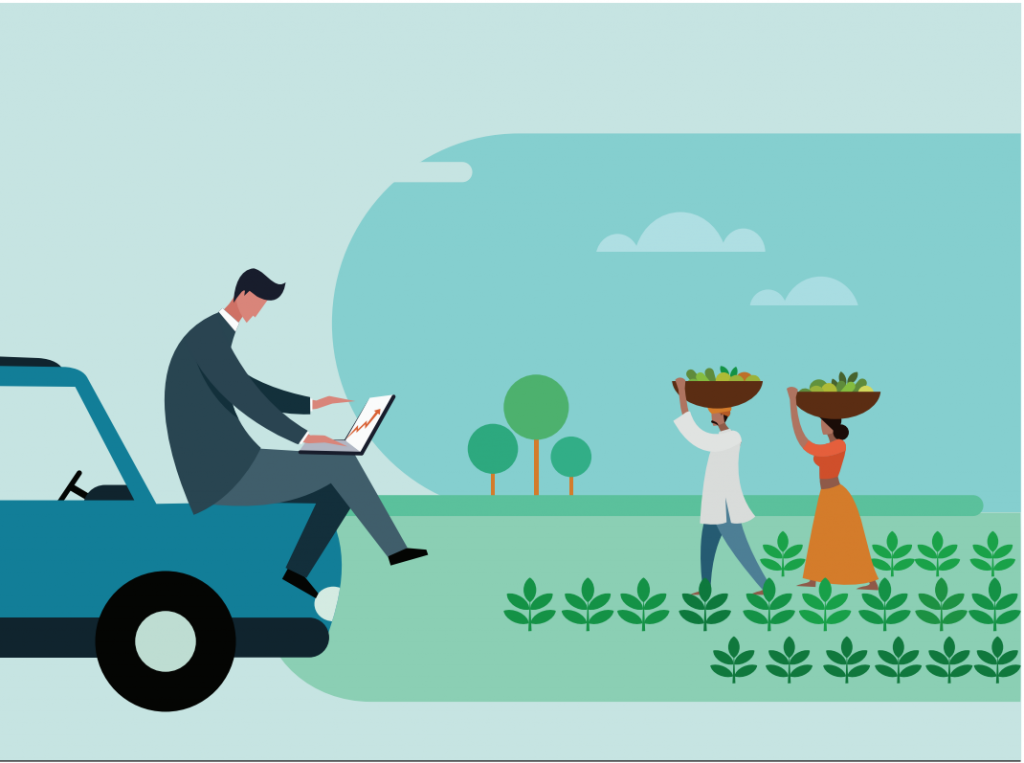 Q) Given the maximum quantum of funding that has gone towards e-commerce and retailing startups, what do you think about the 'tech' part in Indian AgriTech?
By the end of this decade, I am bullish that the investment rate in AgTech will be at least $1B annually, and we will see a cumulative investment of over $ 10 bn in the next ten years. The multiplier effect of this scale of investment in the rural economy is beyond imagination. Agtech is one of the sectors which can bridge the gap between India and Bharat, drive climate resilience, reduce food loss and unlock huge value for the farmers.
A significant part of the investment will still go to supply chain startups because the problem's scale is vast and is a low hanging opportunity. While deep tech startups have higher defensibility, investors' ability to evaluate them and entrepreneurs ability to go to market is still work-in-progress. Deep tech investors have to have patience for market development and product development of Deep tech applications in agriculture. Their growth trajectories will be different from that of supply chain focused startups.
A lot of capital for such startups will come from outside of India because of proven Deep tech applications, especially in places like Israel, Germany, U.S., etc. So it is only a matter of time when Indian AgTechs also get the same level of interest. Business models have to be proven as well for these, alongside the technology component.
Q) To what extent would incubators have played a role in this spurt of AgriTech startups' growth in the last five years? And how do you see their role evolving in the next five years?
Incubators have played a vital role in building the AgTech ecosystem in India. Organisations such as Villgro, Indigram Labs, ICRISAT, CIIE.CO, A-Idea Naarm and Pusa Krishi had supported startups when AgTech was not even a term here in India. Building enabling ecosystems is what role incubators should continue to play.
We also need incubators that are rural-centric and not just in the premium institutions of the country. I believe this is a missing piece today amidst the success stories of AgTech incubators in India. Current incubation hubs are very city-centric, and we are missing out on some of the essential components that make AgTechs work, i.e. the connection and trust with farmers where the local ecosystem can play a vital role.
In my opinion, incubators should also take up the challenges of taking their incubatees' solutions to farmers, helping them partner with FPOs / MSMEs, and promoting rural entrepreneurship specifically in digital-assist solutions microprocessing, farm-level value addition.
Q) What impact have you seen on this evolving AgriTech ecosystem by startup-friendly government policies?
The government's recognition of AgTech as an industry in the last three years is one of the ecosystem's key achievements. This has helped agtechs engage with policymakers at both central and state levels. I feel that the government can support agtechs in the next few years by building necessary physical (farm-level storage, processing) and digital (Agristack) infrastructure and making regulations aligned with evolving agtech business models.
We also need a high-velocity catalytic fund from the government for giving the first cheque to seed-stage startups for rapid testing of innovations. Government platforms like Startup India and Agnii have done a great job. It will be good if they can build sector-specific offerings with dedicated resources for sectors like agriculture.
Q) With large technology companies like Google, Microsoft, Cisco getting into the agriculture sector, how do you see their entry affecting the VC interest and scaling for AgriTech startups?
Firstly, it is interesting to see these companies enter the agriculture space. I see them acting more like System Integrators than pure solution providers. These large technology companies collaborate with startups, which bodes well for everyone in the ecosystem (entrepreneurs, investors) as M&As are fueled by such close working relationships. They can build and enable public platforms offering various services that might not be possible for one startup to pull together. The interest in the agriculture sector by the likes of Google, Microsoft, AWS, and Cisco signals is a positive sign and also an indicator of the AgTech ecosystem maturing.
Q) We have discussed several aspects of the AgTech ecosystem, but it would be incomplete without mentioning the 'India Agristack'. How do you think it can address some of the key problems in Indian agriculture, and how can the AgriStack be operationalised?
The Agristack is conceptualised as a public digital platform for ready and almost instant access to farmers. This platform can be the hotbed for driving disruptive innovations in the agricultural sector. I have proposed an architecture involving three essential building blocks as a starting point for building India AgriStack, including – FarmerStack, FarmStack and CropStack.
FarmerStack is essentially determining who the farmer is, whom we want to reach out to. FarmStack includes the location and dimensions of farm size. This is important to estimate farming needs and the income potential from the farm. Farmer and Farm stacks can be combined to establish who the farmer is, where he is located, his input needs, and how much he can earn from his farm. The CropStack includes data on the number of crops and types of crops a farmer is growing, and it is integral to potential interventions needed to improve farm economics.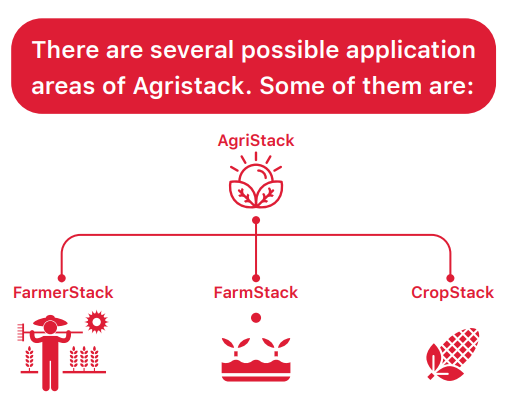 Credit to farmers: Agristack can be used by banks and MFIs to assess the creditworthiness of farmers and then tailor-make products for each one of them. As per the priority sector norms, 18 per cent of ANBC (Average Net Bank Credit) is for lending to Agriculture. FY21-22's Priority Sector Lending (PSL) target for agriculture stands at Rs. 16.5 lakh crores. Banks' ability to reach out to farmers, judge their credit-worthiness, and monitor crops for recovery can be facilitated by Agristack.
Crop Insurance: The number of farmers (or farm holdings) covered under the Prime Minister's Fasal Bima Yojna (PMFBY) is about six crores. The majority of the farmers who availed crop insurance are the ones who have taken loan from banks. Only about 30% of the gross cropped area is covered under insurance. Agristack can improve the access of crop insurance to wider farmer bases (non-loanee farmers specifically) and help bring more crop area under coverage. It can also help Insurance companies understand the farmer and farm risk profile needed to decide the premium and settle the claims.
Direct benefit transfer (DBT) The government can use Agristack to design and implement schemes for farmer welfare and implement DBT. Given the government's intent to move farmer welfare schemes to DBT, Agristack can play a catalytic role in this process.
Market Linkages: Corporates selling to or buying from farmers can also benefit immensely with direct and targeted access to farmers. The digitisation will improve farmers' access to quality inputs to farmers and connect directly with multiple buyers, improving their price realisation.
Building AgriStack has to be a collaborative effort, including governments (both federal and state) and innovators. It is a one-time investment in building such infrastructure, and then there will be a systematic effort to maintain and continuously update it. Unlike IndiaStack, AgriStack will have dynamicity given multiple crop cycles, farmer migration (especially tenant farmers and sharecroppers) and changes in farmer boundaries over some time.
Farmers can also be incentivised to share the data in building the AgriStack. For example, the direct benefit transfer scheme can make it mandatory for farmers to share certain data points (for their benefit) with the government agencies. They can share it directly or through local government bodies or any government-designated person in the village. The data can be selectively audited, or compliance tools can be built to check and maintain data quality.
These are some of the ways in which AgriStack can be operationalised. I do not doubt that the effort in building AgriStack is worth the effort, and it could transform how farm and farmers services are delivered to farmers. It can also give a solid boost to the AgTechs who today spend most of their time collecting and cleaning data instead of building applications around it.
This article was originally published in The SatSure Newsletter (TSNL)