Introduction
Saswati Bora is the Head of Food Systems Innovation at the World Economic Forum (WEF) where she leads WEF's agriculture work in India as well as the global work on technology innovations and incentives in food systems. Before WEF, she worked with the rural policy and strategy group in the Agriculture and Rural Development department of the World Bank where she set up two key global initiatives – the Global Agriculture and Food Security Program (GAFSP) and the Global Food Crisis Program (GFRP).
She has almost two decades of experience in developing and leading ambitious agendas in sustainable development, including on initiatives focused on poverty alleviation, food security, rural development, environmental sustainability and nutrition, with a strong track record in catalysing and driving several prominent global and regional initiatives. She excels in developing strategy and building innovative partnerships with diverse stakeholders with high levels of leadership engagement from Government and management of regional and global organizations from the public and private sector.
Q) Could you kindly inform our readers about the WEF's Innovation with a Purpose platform, what are its objectives, and a few key projects that the platform is leading?
We started the Forum's 'Innovation with a Purpose' platform a few years back as a response to our partners who highlighted that the food and agriculture sector is much behind other sectors in leveraging technology and broader innovations for food systems transformation. Unlike some other sectors, minimal investments were going into technology innovations to meet the challenges of the food and agriculture sector where there are huge potential and opportunity.
So the Innovation with a Purpose platform was started and in the early years published several reports that provided thought leadership on the topic. For example, in 2018, we published a flagship report, in collaboration with McKinsey, that highlighted the technology innovations that could be transformational for the food and agriculture sector. We highlighted twelve technology applications from blockchain to big data to microbiome technology. Another report in 2019 looked at how IT, blockchain and food sensing technologies can enable more traceability in food value chains.
But the main message was that even though these technologies can be transformational, they may not be scalable in the food and agriculture sector. This is due to a variety of factors – as the industry is very fragmented, with small size farms in emerging economies, issues related to last-mile delivery and affordability, and policies not keeping up with technology innovations. Hence, we focused on the concept of "innovation ecosystems" where we support an enabling environment which brings multiple diverse stakeholders to work together to develop ecosystems that can unlock investments, build capacity, lead to greater policy alignment and smart partnerships. To build and strengthen such an innovation ecosystem approach, we need to bring in diverse stakeholders to work in a collaborative multistakeholder approach. As well as, look beyond agriculture, food and beverage sector, to leverage innovations emerging out of adjacent sectors such as ICT, finance, health, among others.
The "innovation ecosystem" approach has resonated with stakeholders, and earlier this year, we received the request from a diverse group of partners to look at supporting this at the country level. So the next phase of Innovation with a Purpose is focused on catalysing and strengthening country-level Food Innovation Hubs with a focus on enabling country-specific approaches to address local challenges and opportunities. For example, the challenges and opportunities for the food and agriculture sector will be different in Kenya compared to Colombia or India and requires a region-specific approach.
We have been working with a multistakeholder group of partners on developing these Food Innovation Hubs in Colombia (Latin America), in several countries in Africa, and will soon start work in India. These Hubs will focus on five key outcomes:
Equitable access to innovations for farmers and consumers
Increased investments in inclusive and scalable technology solutions
Support enabling policy incentives and improve the resiliency of food systems
Mitigate unintended consequences of technology solutions
Unlock institutional bottlenecks to scale in support of systemic change
Q) The platform is very global, and you are engaging in several regions, including India, which have different challenges. How do you engage with stakeholders to create this kind of customized programs to develop or test out some of these technologies and their applicability to the regional context towards supporting food systems innovation?
At the global level, we are developing the framework, distilling learnings and bringing in the broader collaborations and networks, including linkages to major global initiatives and milestones. However, the work is all driven at the local level by local stakeholders through a country-owned and country-led approach. Each country or region will choose a bespoke model depending on their priorities and needs, and we are working with local stakeholders to dig deep into what are the problems we want to solve for in that particular context. It involves a lot of consultations and dialogues with local farmers, stakeholders, governments, private sectors and SMEs to define what are the key challenges and also the opportunities that could be leveraged. However, we don't want to be duplicative and crowd out existing initiatives; instead, our approach is to build on existing initiatives and partners and focus on building scale and impact through an ecosystem approach. That also means working with government partners, looking at policies and priorities in place and engaging with policymakers continuously through dialogues and consultations.
For example, in Zambia, through extensive consultations, we identified that one of the critical focus areas could be on providing incentives for smallholder farmers to move towards more sustainable agriculture practices. And the mechanism could be by supporting the development of an interoperable data and analytics ecosystem that brings together multiple data platforms to provide financing, advisory, capacity building and other support to smallholder farmers to move towards more sustainable farming practices.
Q) While having such extensive collaborative frameworks, what are some of the key challenges that you face in making sure that from the time to strategize the objectives to the time these are executed – they are all coherent. I believe the execution will be the main challenge, as the Forum is working in so many different countries. Could you list a few such challenges that you have faced?
The World Economic Forum is an international organization for public-private cooperation with a mandate to support innovative approaches for public-private collaboration. We are a neutral organization and act as a catalyst where we facilitate, convene, co-create, and support local stakeholders in defining the vision and action plan. The Forum is not a funding or an implementation agency. The success of our program depends mostly on the ownership and willingness of our partners to lean in. So we can only provide a certain amount of support in the early phase, but the implementation and execution have to be taken forward by different organizations.
But we have been lucky as there are strong ownership and championship from our public, private and social sector partners in building and supporting this work. That is why we also try to ensure that we are building on existing key initiatives and priorities as that would provide more ownership and action. If we try to put something new on their plate, there will be less appetite to take this forward. But if it is aligned with a goal where there is already a commitment to deliver, supported by the initiative, then it becomes easier.
However, there is always a challenge when there is a leadership transition in either government or private sector. A particular bureaucrat or senior executive may commit to an initiative, but once that person changes, there is a risk that the work may falter. So it's always best practice to institutionalize the approach within organizations to mitigate any risks related to leadership transition.
Q) Based on your global experience with the platform, which all technologies have you seen showing the maximum promise or potential for transforming food systems, especially in developing countries?
The "Transformative Twelve" technologies impacting food systems. Adapted from: Overview of Regional Food Innovation Hubs, World Economic Forum
In 2018, Innovation with a Purpose, in collaboration with McKinsey, identified around twelve technology applications that could be transformative for food systems. This was identified through a systematic scanning and landscape mapping process, through surveys, interviews and stakeholder consultations. These technology applications range from those that can change the shape of demand (example, alternative protein and food sensing technologies) to ones that promote value chain linkages (example, big data and blockchain) to those that create effective production systems (example, precision agriculture and microbiome technologies).
Some of these technology applications are more prominent in certain regions than others. For example, alternative protein or food sensing technologies is more pronounced in the USA or Europe. For emerging economies, mobile service delivery, along with big data combined with advanced analytics, could provide huge benefits, especially in terms of financing, insurance and risk mitigation opportunities for farmers. IoT could also be a massive game-changer as it leads to more supply chain transparency and traceability. Precision agriculture could also be one of the big game-changers in the future, especially in developing countries.
However, we are not focusing on promoting any specific technology but are more focused on supporting a broader innovation agenda which can enable these technologies to meet its potential while mitigating any unintended consequences. Many times, these technology applications do not create the desired impact on the food and agriculture sector as the broader ecosystem is not in place for the needed scale and effect. Hence, we need to not only focus on high-tech but also look at supporting innovations in the business model, partnerships, grassroots and institutional innovations that can lead to scalable impact.
Q) We were talking about technologies such as blockchain, IoT and AI that are showing much promise. Concerning these food innovation systems, which part of the value chain do you see these technologies contributing the most? Is it at the farm, is it post-harvest, or pre-harvest in the input side of the business?
At the World Economic Forum, we are working towards advancing a holistic food systems approach. Our focus is on reaching four goals for food systems transformation:
Sustainable – minimizing negative environmental impacts, conserving scarce natural resources, saving biodiversity loss and strengthening resiliency against future shocks
Nutritious and healthy – providing and promoting the consumption of diverse nutritious and safe foods for a healthy diet
Efficient – producing adequate quantities of nutritious and healthy foods while minimizing loss and waste
Inclusive – ensuring economic and social inclusion for all food systems actors, including smallholder farms, women and youth
We want to support these four goals through an integrated, holistic systems-based approach and the work of the Food Innovation Hubs is focused on leveraging innovations that help these aspirations through a multistakeholder, pre-competitive system.
What we want is to enable innovations across the ecosystem and not just focus on one part of the value chain. For example, we might provide innovations to farmers to improve their productivity. However, if there is no market for the product or processing or cold storage to reduce food loss, it won't lead to an increase in farmers' income. We need to look at the broader ecosystem of support for farmers, including financing, advisory and capacity building.
We have also found that there is a gap in demand-side innovations, and we are trying to enable more focus on consumer demand and sustainable consumption. The key questions we ask ourselves are – how do we incentivize consumers to shift their direction to more sustainably grown, nutritious and healthy food? What are the innovations that can enable this? For example, is it food sensing technology where you can use a mobile phone to see the nutrition profile or environmental footprint of the food you're buying that will enable you to make more informed buying decisions? Suppose you immediately see that it is a better product and are willing to pay a premium price as it meets your values. How do we ensure that this premium trickles down the value chain and reaches the farmers, so it rewards farmer for producing more nutritious food through better farming practices?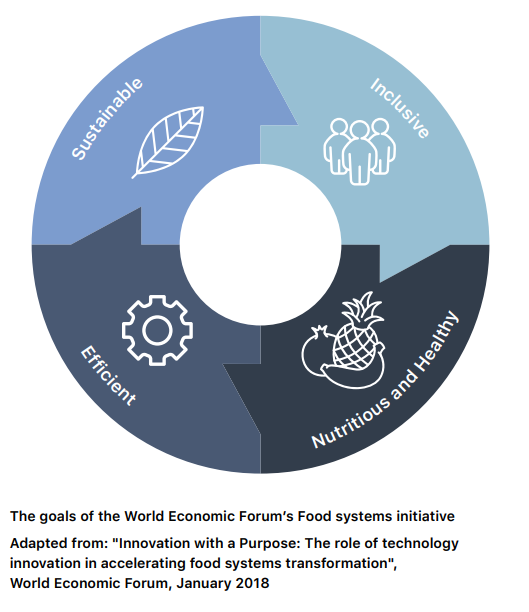 Q) There is a lot of hue and cry about bringing in more sustainable practices in farming – like changing the behaviour of growers. When we are looking at the end-to-end traceability and improving the entire quality of the food that we eat, importance is given to how we grow our food, mainly since the agriculture sector contributes a lot to GHG emissions. In that context, are there any examples you have seen globally where a policy or key incentive is changing the behaviour of how we are growing food?
As I mentioned before, the food and agriculture sector have to meet a multitude of diverse aspirations – addressing malnutrition, sustainability and efficiency, improve farmers income, for example. But many of the current incentives were put in place decades ago when much focus was on food security and self-sufficiency. But the focus has now expanded. For example, the kind of food people are eating – is it leading to obesity or diabetes? And also, how do we ensure farming practices do not lead to environmental degradation?
We need to realign our incentives to support an integrated approach to meeting these 21st-century priorities. The challenge is – how do we overcome the hurdles preventing stakeholders from making this change? How do we address the transition costs and costs of behaviour change? For example, why would farmers change their production patterns unless someone pays them to do it?
In a recent report published by the World Economic Forum, we identified four pathways to realigning incentives. The first is repurposing public investments and policies. The second is private sector need to redesign their business models to prioritise environmental, social and financial outcomes. Third - institutional investors, like private equity funds, need to set higher standards on how companies approach environmental and social outcomes besides financial returns. Fourth, shift consumer demand towards more environmentally responsible and nutritious products. All these four pathways are interconnected, and we need progress on all four to realign incentives
Regarding your question on policy incentives that has changed the behaviour of how we grow food, subsidies and public investments can be one of the most powerful drivers in the food and agriculture sector to stimulate widespread change. For example, the EU's Common Agricultural Policy through reforms over the last few decades has shifted from price guarantees to direct payments to farmers, decoupled from crop choice and input use. These changes increased the incentives to use fertilizers more efficiently. Studies have shown that these led to improved environmental outcomes while crop yields rose. Another example is Costa Rica which has pioneered the use of payment for environmental services (PES) that paid farmers and landowners to support ecological efforts.
Q) There have been many projects in India where they want to move from paddy towards millets or maize. But all of them are failing even though the government is incentivising them with cash. Even there are funds now to curb crop burning by including financial incentives for the farmers. But still, these are not having the expected impact. What is your opinion on the critical success factors of such programs?
Providing financing is essential but not sufficient to induce behaviour change. We need to provide a full ecosystem of support that can incentivize farmers to diversify their crops, especially if they have been cultivating this crop over many generations. We need to provide them with the right inputs, education, training, advisory services, capacity building, as well as infrastructure support and access to markets. There need to be risk mitigation measures in place like insurance mechanisms so that if crops fail, there is support available to farmers. We need to ensure there are buyers for the commodities that farmers produce who will provide a fair price and augment their income. So, the ecosystem needs to be put in place and not just targeted at one part of the value chain or one standalone intervention.
Q) All the nations agreed that by 2030, we would meet the SDGs, and we are already at the end of 2020. As the head of food systems innovation at WEF, what do you think needs to be done to achieve those targets by 2030? What are the key steps to take in the next decade to achieve those targets?
That's a pertinent question on the need for urgency to meet the SDGs. Food systems cut across multiple SDGs so if we are to meet SDGs, then we need a renewed focus on food and agriculture sector. We need to enable multistakeholder partnerships that embrace multiple sectors and industries and brings learnings and innovations that can support a systems-based approach. We need to bring in these innovations that are being developed by start-ups and scale them up for broad-based impact. We need to leverage partners from adjacent sectors like the IT and the financial industry – who were traditionally hesitant to work on the food and agriculture sector – and leverage their resources and knowledge. What we need is extensive engagement from multiple stakeholders and along with that, a focus on realigning incentives so we can enable a broader food systems transformation.